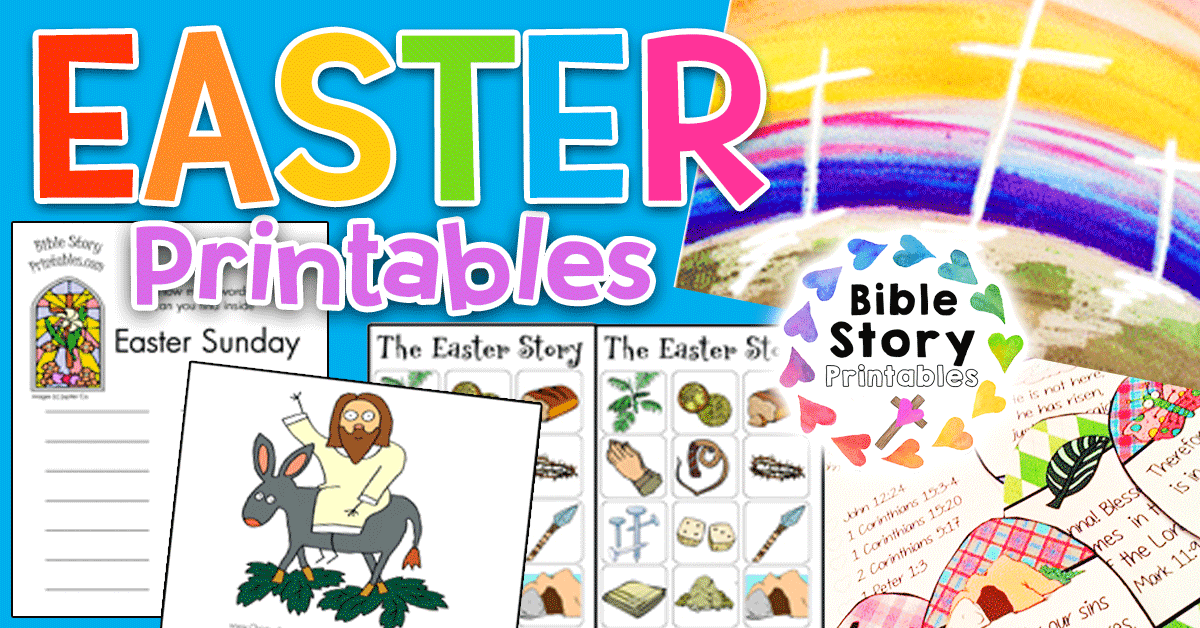 Easter is a wonderful holiday for celebrating God's promise of salvation in Jesus Christ!  This is a great opportunity to share the true reason and meaning behind our Easter holiday. Here are some printable bible crafts you can use for Easter/Resurrection You'll find printable Easter Cards, Printable Bookmarks, Printable Gifts and more! Use these resources in your Homeschool, Sunday School, and Missions trips.  If you are looking for more check out our Easter Bible Activity Pack.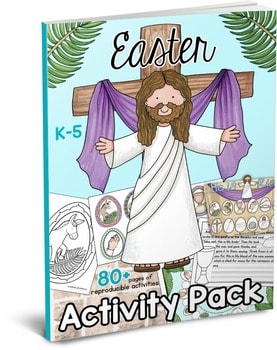 This Bible Easter Activity Pack is filled with Bible games, worksheets, crafts and activity pages you can use to teach your little ones the story of Easter. This set is designed for the K-5 teacher or homeschool family and includes multi age resources to connect with different ages and abilities.
View Photos and Samples on our Blog
Empty Tomb Bible Craft for Easter.
Our FREE Easter Bible Craft is great for you Sunday School or Children's Ministry. Children color, cut and paste this project together to retell the story of Easter. He is Risen! This craft is shared from our 80+ page Easter Activity Pack This set includes games, crafts, activity pages, and take home resources for your Resurrection Lessons.
Easter Bible Bookmarks
These Color Your Own Easter Bible Bookmarks are perfect for children of all ages. Featuring four different designs, each have their own image to color and the following sayings; 'He is Risen." "Jesus Lives," "Happy Easter," and "Hosanna!."
Easter Bible Coloring Pages
A collection of free printable Bible coloring pages for Easter. Includes Easter Cross, Hosanna, Empty Tomb and More
Easter Bible Coloring Pages
Free Easter Bible Coloring Pages for Kids featuring the cross at Calvary. Each page features easy coloring thick lines and is just right for little hands.
Easter Watercolor Craft for Kids
There are many wonderful Easter Bible Lessons you can tie with this craft, you'll have many new children and visitors on Easter Suday.This is a great project to remind children of THEIR choice of belief. There is no in between, no grey area, you either refuse or accept salvation in Christ. Not choosing....IS choosing.
Jelly Bean Prayer Printables
Free Jelly Bean Prayer Printables on our Sister Site. Jellybean Prayer Bookmarks Jellybean Prayer Coloring Pages Jellybean Prayer Chart & Poem Jellybean Prayer Write & Color Booklet Jellybean Prayer Bible Puzzle
Jelly Bean Prayer Box
This is a Jelly Bean Prayer box children can make in class and take home for a special gift for a friend or family member. Once assembled, add in some Easter grass and a jelly bean of each color in the poem..
Easter Story File Folder Game
This is a file folder game about the Resurrection of Jesus Christ. This is a great game to play around Easter time, and goes perfectly with the Resurrection Eggs below. Children move their player along the board collecting different picture representations to the true Easter Story
Easter Story Bible Minibook
This is a bible story minibook for retelling the Easter Story. This is based off of Matthew 28, and tells the basic story of Jesus's resurrection. There are blank versions if you'd like your chidlren to write in the easter story themselves.
Easter Bible Verse Copywork
This is a set of Bible Copywork sheets for learning about the story of Easter. These verses talk about the Resurrection of Jesus Christ, and how he has died for our sins.
Try our Easter Bible Activity Pack Today!