Starting a Biblical timeline with your children is a great way to give them a historical foundation to back up their beliefs. I can tell you from personal experience that a lack of understanding leaves a child questioning who, what, why they are here. Even young children can learn that there is an everlasting creator, a beginning of time, a savior, and an end of time. We actually have a coordinating set of Bible Notebooking pages here. These are great for older children, or homeschooling families to take more detailed notes about important people and places in history. Additionally, we've created some helpful Bible timeline printables and sequencing cards you can use below.
Suggested Resources:
You don't have to invest large amounts of money on a timline, in fact, you can make one from home using our free timeline resources below. We've put together a short step by step photo tutorial for assembling and using your Bible Timeline.
These are blank timeline notebooking pages you can use alongside our Bible timeline printables. To make your own timeline notebooks you can take them to your office supply store or invest in a binding machine. These are just the right size for our Bible timeline printables below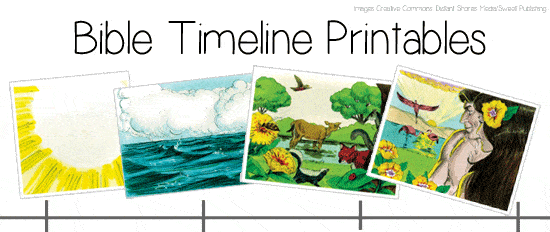 Over 25 different pages, filled with 200+ events from Biblical and World History. These Bible Timeline Cards are full color, ready to cut out and place in your assembled timeline. Children add in their own dates and notes for each event.
This is a printable template you can use for children to design their own time line cards. You can add in your own images to these blank timeline cards with a photo editing software, or have children illustrate their own pictures.
Free Bible History Notebooking Pages
Over 100 pages of charts, maps, art, story visuals and notebooking pages. These free Bible notebook resources are perfect for your study into Biblical and world history. Pair alongside your favorite history curriculum for an interactive learning experience.